Custom Family Peg Doll Set - 2 adults, 1 child, 1 pet
---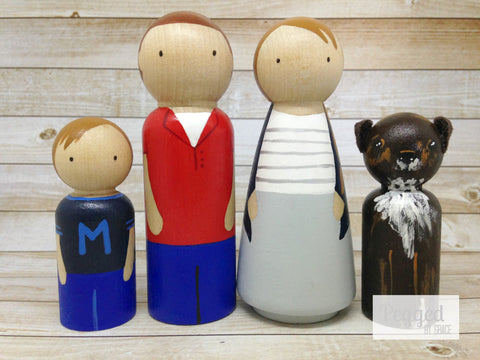 Would you like to have your family immortalized in peg doll form? Send me a picture or two and I will create your family, pets included, to your specifications. This listing is for 2 adults and 2 children.
Prices for custom figures are as follows: $20 for each "adult" or tall peg, and $15 for each "child", "pet", or short peg.
They will have two coats of non-toxic varnish to keep them safe, and will arrive at your home in their own little bag for safe-keeping.
Peg Doll Families are a great display item, a fun toy, and an heirloom to pass on through the generations. They are perfect for dollhouses and a neat way to replace game tokens when playing a board game. They are a unique substitute for "Flat Stanley" and look great on a mantel!